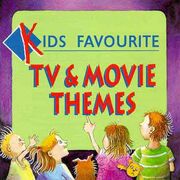 Kids Favourite TV and Movie Themes
is a CD released in 1995 by ABC for Kids.
Songs
BANANAS IN PYJAMAS. (Blyton). (ABC).
I'M BLINKY BILL. (Gross/Palmer). (Mushroom).
PLAY SCHOOL THEME. (Milne/Connolly). (ABC/Mushroom).
LIFT OFF. (Chris Neal). (Screensong Pty. Ltd).
JOHNSON AND FRIENDS THEME. (Chris Neal). (Screensong Pty. Ltd).
FERALS. (Dasent/Baysting). (Control).
LIZZIE'S LIBRARY. (White/Hanicek/Henderson). (Control).
SKY TRACKERS. (Cesary Skubiszewski). (Screensong Pty. Ltd/Warner Chappell).
Ad blocker interference detected!
Wikia is a free-to-use site that makes money from advertising. We have a modified experience for viewers using ad blockers

Wikia is not accessible if you've made further modifications. Remove the custom ad blocker rule(s) and the page will load as expected.