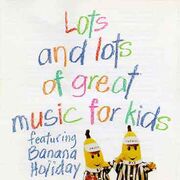 Lots and Lots of Great Music for Kids
is a CD released in 1994 by ABC for Kids.
Songs
LIFT OFF MAIN TITLE. (2:01). (C. Neal). (Screensong).
D.O.R.O.T.H.Y. (My Favourite Dinosaur). The Wiggles.
V-E-G-E-T-A-B-L-E-S. Play School.
JOHNSON & FRIENDS THEME. (1:14). (C. Neal). (Screen Music International Pty. Ltd (APRA/Leosong)).
BANANA HOLIDAY. (3:13). (S. McNamara). v: Bananas In Pyjamas.
WHISTLE SONG. (G. Gross/J. Palmer). v: Blinky Bill.
OOMBA BAROOMBA. Play School.
Ad blocker interference detected!
Wikia is a free-to-use site that makes money from advertising. We have a modified experience for viewers using ad blockers

Wikia is not accessible if you've made further modifications. Remove the custom ad blocker rule(s) and the page will load as expected.