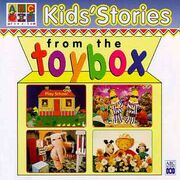 Stories from the Toybox
is a CD released in 1995 by ABC for Kids.
Songs
The Three Little Pigs. (John Patterson). Johnson and Friends. (Includes theme music)
There Was A Princess. (Trad.) v: Noni Hazelhurst, John Waters. (Playschool). (Includes rocket clock music)
Super Bananas. (Simon Hopkinson). v: Bananas In Pyjamas. (Includes theme music
James And The Rain. (Karla Kuskin). v: Noni Hazelhurst. (Playschool). (Adaption used by permission of the author).
Ad blocker interference detected!
Wikia is a free-to-use site that makes money from advertising. We have a modified experience for viewers using ad blockers

Wikia is not accessible if you've made further modifications. Remove the custom ad blocker rule(s) and the page will load as expected.